Tera Rich

Director of Social Media

,

Marketing Director

,

Owner

in Muncie, IN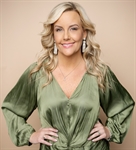 Hello! My name is Tera Rich and I am the Marketing and Social Media Director for NextHome Elite Real Estate. I have a Bachelor degree in Marketing and an Associates Degree in Business Administration. I greatly enjoy creating fun and engaging advertisements and marketing projects for our company.
I am happily married to my husband, Austin, and we have three amazing kiddos. Between school and all of their sports, they keep us busy! Whether it's our girls playing volleyball and running track, or our son playing basketball or golf. We love every crazy, busy minute of it! They are big helps with NextHome as well and occasionally guest star in ads for me. :)
One thing I love most about NextHome is the way they care about their clients. They live and breathe their hashtag #HumansOverHouses. There isn't another company in town that puts the person before the transaction they way the NextHome agents do. I am honored and proud to represent this company and spread their brand and way of doing business. Because when you chose NextHome Elite Real Estate, you don't become just a client...you become NextHome Family.